atsec participates in UT Natural Science's Spring 2008 Career Fair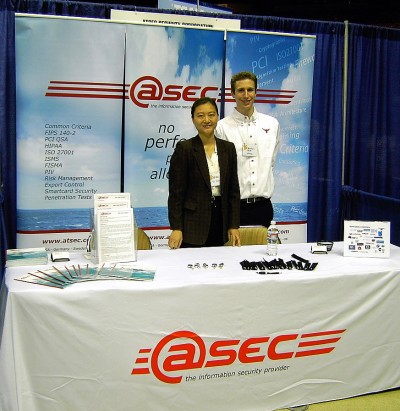 2008-02-06
Austin, TX - Due to steady growth in demand for its IT security consulting testing and evaluation services, atsec information security is looking for new IT security consultants. This year, atsec consultants Yi Mao and Auston Holt reached out to upcoming graduates of the University of Texas by participating in the UT College of Natural Sciences Spring Career Fair, where they talked to students interested in full time or internship positions.
The atsec business model is that its employees are the company's most important asset. Hard work and results are rewarded through a cash bonus program that makes atsec a true, no strings attached "employee-reward company", rewarding excellent performance with cash, not options tied to future company results. In addition, atsec offers a generous employee benefits package, including a matching 401K plan (vested immediately), health care allowance, medical plan, dental plan, life insurance, training/skills development, and generous vacation allotment.
We invite you to take a look at current career opportunities at:
http://www.atsec.com/01/company-job-opportunities.html
About atsec information security
atsec information security is an independent, standards-based IT (information technology) security consulting and evaluation services company that combines a business-oriented approach to information security with in-depth technical knowledge and global experience. atsec was founded in Munich (Germany) in 2000 and has extensive international operations with offices in the U.S., Germany, Sweden and China. atsec leverages its deep security, process, and standards expertise to consult on a wide range of IT security needs, enabling clients to establish integrated security management procedures in order to manage security risk and improve data, product, and business process reliability. atsec works with leading global companies such as IBM, HP, Oracle, Cray, BMW, SGI, Vodafone, Swisscom, RWE, and Wincor-Nixdorf. For more information please visit www.atsec.com.