atsec information security corporation passes ISO/IEC 27001: 2005 surveillance audit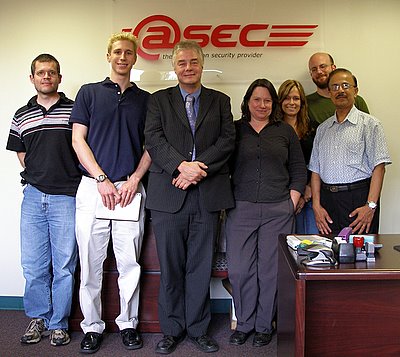 Left to right: Klaus Weidner, Auston Holt, Bruno Tenhagen, Brenda Grove, Christine Ouellette, David 2007-06-04
Today atsec information security corporation successfully passed its second ISO/IEC 27001 surveillance audit conducted by the German Technischer Überwachungsverein (TÜV). During the one-day audit, lead auditor Bruno Tenhagen took a detailed look at atsec's ISMS and interviewed several employees about aspects of the company's security practices. The next full audit is scheduled for 2008.
Brenda Grove, Quality Manager for atsec information security corporation, commented: "Mr. Tenhagen confirmed that our company does the right things to securely manage information assets. Taken together, our ISO 9001:2000 and ISO/IEC 27001:2005 certifications show that atsec puts a priority on quality and security within our own organization."
About ISO/IEC 27001
ISO/IEC 27001 and its related code of practice, ISO/IEC 27002 (17799), describe an information security management standard for organizations that is quickly growing in popularity around the world. The basis for the standard is that an organization's most valuable asset is its information. As a valued asset, information must be managed and protected from internal and external threats. In order to protect its information assets, the organization must develop sustainable security measures and integrate those measures into its business processes.
About atsec information security
atsec information security is an independent, standards-based IT (information technology) security consulting and evaluation services company that combines a business-oriented approach to information security with in-depth technical knowledge and global experience. atsec was founded in Munich (Germany) in January 2000 and has extensive international operations with offices in Germany, the U.S., Sweden, the U.K., and China. atsec leverages its deep security, process, and standards expertise to consult on a wide range of IT security needs, enabling clients to establish integrated security management procedures in order to manage security risk and improve data, product, and business process reliability. atsec works with leading global companies such as IBM, HP, Oracle, Cray, BMW, SGI, Vodafone, Swisscom, RWE, and Wincor-Nixdorf.